Vater&Sohn x Iron Heart IHxVS-T1-DD Jacket – A 21st Century Type I Made From Indigo Canvas
Sascha Kampmeyer and Tobias "MocTO" Pflug from Vater&Sohn have accomplished more than most since they opened Vater&Son in 2013. Now, they can check 'do collaboration garment with Iron Heart' from their to-do list as well. We take an in-depth look at the IHxVS-T1-DD jacket that they dropped recently.
Why Collaborations Make Sense
Any denimhead who has spent more than five minutes in the game will have come across a collaboration project or two. Collaborations are essentially what marketing textbooks would define as 'co-branding,' which is, "when two companies form an alliance to work together, creating marketing synergy." The operant word here is synergy.
Iron Heart are notoriously good at collaborations. The sheer number they've churned out in less than a decade more than discreetly hints that the concept is a sure-fire recipe for success. For a retailer to have an Iron Heart product with his name on is probably one of the highest recognitions a denim outlet can get.
Vater&Sohn was built around brands like Iron Heart, and the two German denimheads behind the store soon became good friends with Giles Padmore of Iron Heart International, who supported them right from the get-go.
Now, two years down the road, they felt it was time to take their friendship to the next level and work together to create something the world has never seen before; a jacket with the cryptic name IHxVS-T1-DD.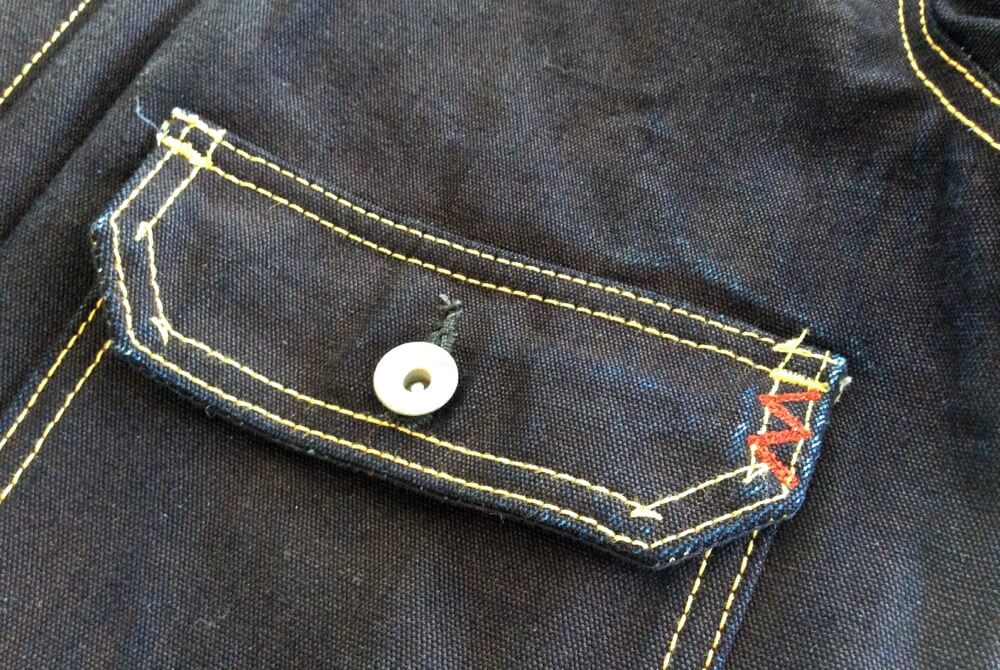 Canvas Is THE Workwear Fabric
Simply put, the IHxVS-T1-DD is a modern interpretation of the iconic Levi's Type I jacket. But other than that, nothing is simple about the jacket.
The fabric Vater&Sohn and Iron Heart choose for their first collaboration is a sanforized 16.5 oz. canvas. Canvas is a plain (1/1) weave and in this case both the warp and the weft are indigo rope dyed. This dyeing method gives you great fading potential, as the cores of the yarn are left undyed.
Canvas is possibly even more durable than denim. Traditionally, the canvas worn by hard working men and women from the Sierra Nevada to the Yukon would weigh around 13 oz. – and depending on how tightly it's weaved, canvas can be almost wind and waterproof.
Of course, that was not enough for Iron Heart. With this 16.5 oz. beast of a fabric, Iron Heart has made a canvas that is as good as bulletproof.
It is weaved so tightly and densely that it broke the old vintage shuttle looms repeatedly to a point where further production would ruin them for good. That wouldn't be in anyone's interest, so Iron Heart and Vater&Sohn chose do make the canvas on modern projectile looms instead.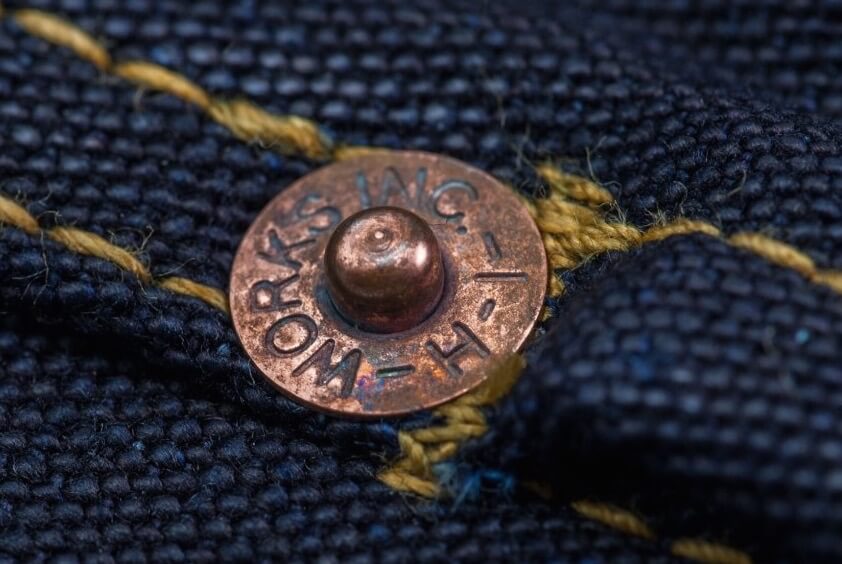 The Hardware Will Amaze You
As you can see, all the zinc buttons, copper rivets, and metal parts of the jacket have already built up a patina. Giles threw the hardware into the Kojima Bay for no less than 100 days. That way, the hardware already has nice and natural patina when you start your journey with it, and it is safe to say it will only grow more beautiful over time.
As expected, the construction is top-notch. All threads are poly-cotton and the seams are flat felled. Especially with the pockets, you can see how delicate and accurate the stitching is, despite the fact that the job was comparable to sewing thick leather.
21st Century Type I Fitting
It's not only the fabric that has been modified, Vater&Sohn also wanted to update the boxy and short silhouette of the original Type 1.
The bottom of that jacket sits just on top of the waistline of what we today would define as a rather high-waisted pair of jeans. Men today simply wear their jeans differently than they did in the olden days. So, the IHxVS-T1-DD jacket is a little longer and a little slimmer.
As good as it all sounds, we promise you that the jacket will give you a hard time – it's not going to be easy to break in. But, here's another promise: the jacket will be as reliable for years to come as it is cool to look at.
The IHxVS-T1-DD jacket is available at Vater&Sohn's Hamburg store and Iron Heart's webshop.