The Bootery Launches European Wesco Boots Webstore
European Distributor of Wesco Boots, The Bootery, Launches Webstore With Unique Feature Coming Soon
Rope Dye and European retailers were first introduced to Wesco Europe, now known as The Bootery: Distributor of Wesco Boots, in July 2014 at Bread & Butter. Distributor Giles Padmore, with the help of Sascha Kampmeyer and Tobias Pflug of Vater&Sohn, and Wesco Sales Manager Chris Warren, displayed the first selection of sample lace-up and pull-on boots at the show.
Now, The Bootery is ready to conquer the European market with a newly launched webstore with a solid selection of both new Bootery Wesco styles and classic Wesco Standard styles. The feature that many Wesco fans have been longing for will be integrated soon. Find out what it is below.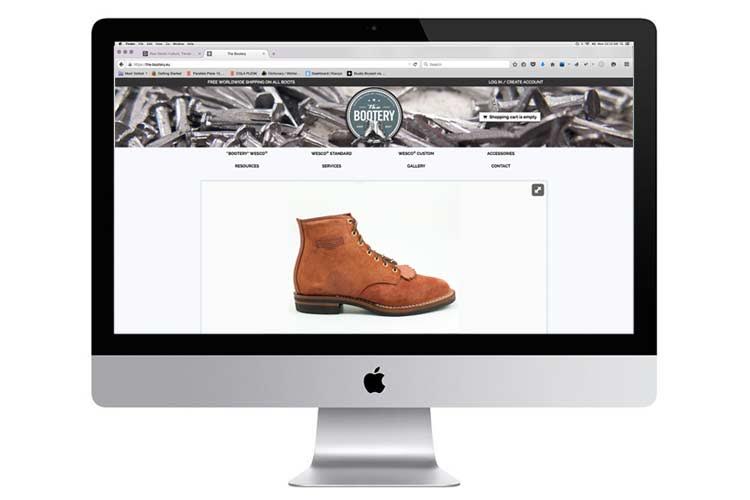 The Logical Choice of Giles As Wesco's European Distributor
Having handled international for Iron Heart for nearly ten years, Giles is no stranger to brand distribution. In that time, he has had dealings with boot manufacturers, collaborating numerous times with Canada's Viberg Boot and Chicago's Oak Street Bootmakers. When contemplating his next collaboration, Giles looked to Wesco Boots, a brand he had long admired and worn; a brand with huge potential in Europe.
The family-owned and operated Wesco (West Coast Shoe Company) has a rich history in American footwear, producing high-quality boots in Scappoose, Oregon since 1918. Originally manufactured for loggers, Wesco now has a strong following from a global motorcycle community, an aesthetic Giles understands all too well.
The Bootery Have Already Created An Exclusive Build and A New Leather
Since its European debut in Berlin, The Bootery has collaborated with Iron Heart International and VMC Original, released an exclusive build known as the Foot Patrol (based on a WWII service boot) and released an exclusive leather, the Olive Burlap. The Bootery is also the main sponsor of the Denim World Championship's Boot World Championship.
The Foot Patrol styles is a joint creation of Giles and Chris that began as a concept during those hot July days at Tempelhof. Built on Wesco's Motor Patrol last (hence the name), this WWII-inspired Type III Service Shoe, or Boondocker, comes fully lined in three regularly available options; Burgundy Domain, Brown Domain rough-out and the new Olive Burlap with Vibram's #269 sole and one inch heel.
The Shopping Feature European Boot Lovers Have Been Waiting For
As a special treat to all the hardcore European Wesco fans, The Bootery will soon integrate a custom build feature into the site, allowing customers to detail a boot to their needs based on the Wesco line-up. This is definitely something we're looking forward to!
Currently, Wesco boots are available through The Bootery's European retailers, which include Austria's The Low Down on Denim, Vater&Sohn of Germany, JEANSLIFE and VMC Original in Switzerland, and Iron Heart International. On top of that, Thailand's Pronto covers Asian markets and then there's obviously The Bootery webstore.