Dumluck's "The Third" Collection throws open the doors for a discussion on the changing face of heritage
Back in the summer a new brand caught our attention. Dumluck, hailing from Amsterdam, brought us a small collection of well-tailored denim basics. They are now back with their third collection. A wider choice, broader influences and a glimpse at things to come.
Anything But Dumb Luck
The name Dumluck could be considered ironic. It must have been anything but dumb luck that made the brand and informed this latest collection.
Dumluck looks to be the product of a shit ton of hard work; a broad knowledge of both denim history and construction coupled with a general empathy with the current trends in both denim and the fashion machine as a whole. Top to Toe Denim Without the Denim Tux
Kenley Chittick, the founder of the brand and craftsman of every single garment, sums the whole thing up nicely:
"The Third is about going beyond blue and choosing what fits your personality as a whole."
Chittick introduced various denim colours and weights meaning the true blue denimhead can full on geek out, top to toe denim, without looking "too blue". The colours, textures, and weights work together to augment this notion.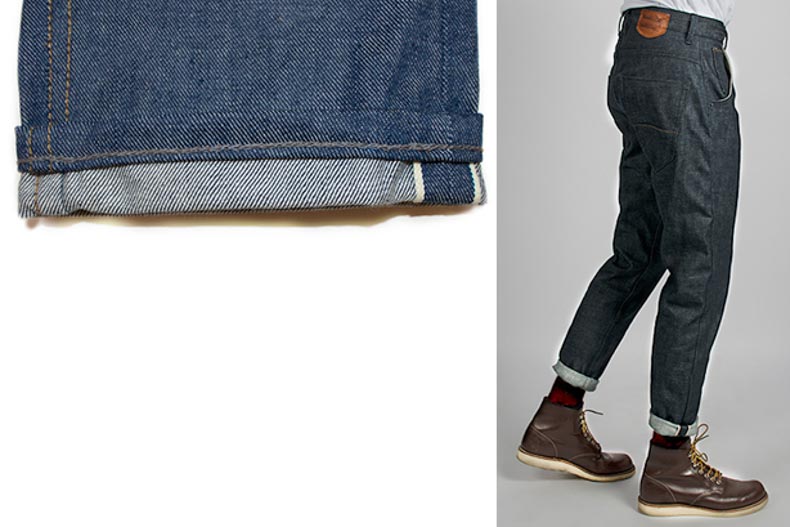 The Cornerstones of Dumluck's The Third Collection
In The Third, there are three standout pieces that we see as cornerstones. Each has its own intentions and influences. They serve to bracket the collection as a whole and are representative of that undefined Amsterdam zeitgeist.
Let's Start With the Jeans
The cropped carrot fit jeans are something straight out of the Nine Streets. The stereotypical Dutch denimhead loves to let his Red Wings shine and his socks pop. These jeans let him do just that without having the dreaded doughnut cuff.
Dumluck offers 6 fits ranging from a classic regular fit over various slim tapered options to the cropped carrot fit. Chittick has selected denims that match the styling and fitting of each cut. All in all, he works with 5 different denims including a 14.5 oz. RHT White Oak selvedge denim, a 14 oz. light blue Kurabo denim (above left), and a 15 oz. dark grey Kuroki selvedge (above right). You can choose between 4 colours of the hem stitch to personalise the jeans.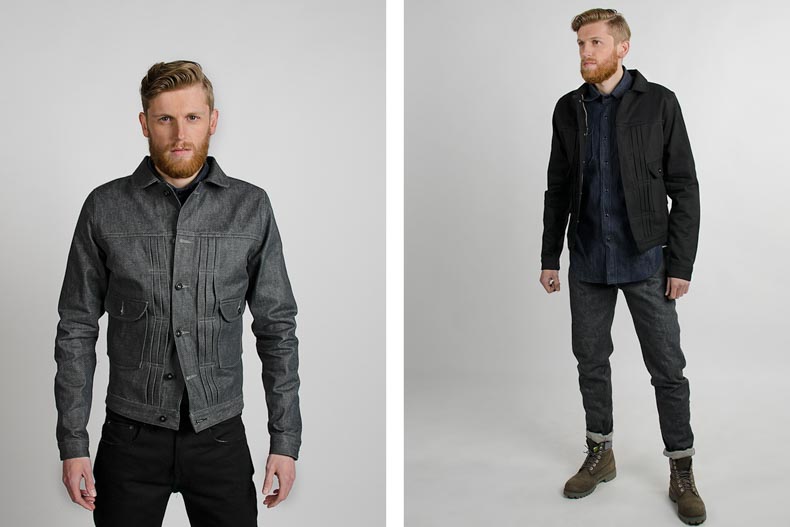 The Denim Jacket Offered Up Is an Amalgamation of a Few Different Influences
If you'd written this down on a piece of paper and shown it around the DH office, we'd have probably laughed and thrown things at you. But holy shit, Dumluck pull it off in style.
On the face of it, it is a Type II: pleated, two flap pockets, the works. Roll it back 80 years or so to the denim blouse with the round collars and then fast forward to the 2000s with a contemporary fit. Mash this up with a choice of indigo, grey cast or a 15 oz. black on black denim from Kuroki and you have a denim jacket we can all identify with but we have never seen.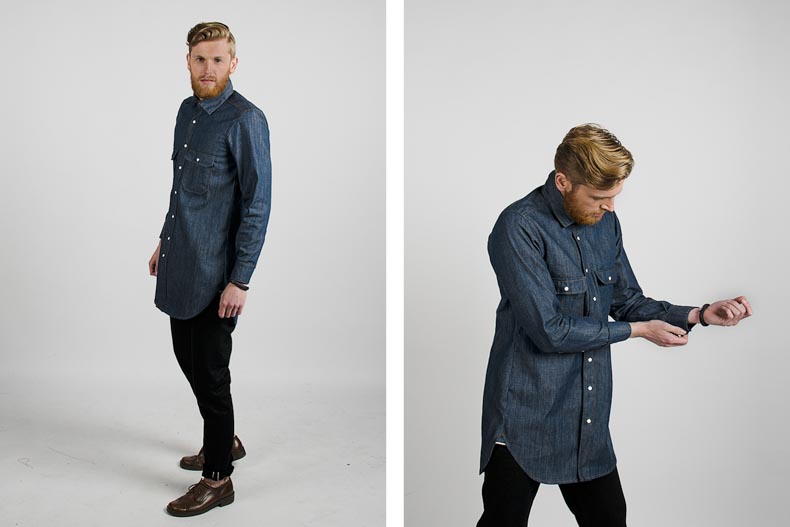 Last But Certainly Not Least Is the ACT S Denim Shirt
For me personally, this is the highlight of the collection. I might even stretch that to say the highlight release of 2014. A pretty lofty claim.
Go to page two where I break it down and argue why I'm so excited about this collection – and why I think it could be the future of denim!