The Details of ENDRIME's EM40090 Dart Manipulation Trucker Jacket and Why I Love It
Now, I have a confession to make. When it comes right down to it, I may prefer denim jackets to denim jeans. Before you get the pitchforks and torches, let me explain.
It was a denim jacket that got me into raw denim (as you can read here). I stick religiously to fading my jeans, but denim jackets allow me to be a little more promiscuous in my outfits. It allows my burgeoning fashion whorism a healthy outlet, you could say. Also, there are just so many nice denim jackets out there! Let discuss one of them here; the ENDRIME EM40090 Dart Manipulation Trucker Jacket.
Experience, Knowledge and Passion Built This Jacket!
ENDRIME is a result of Mohsin Sajid's 15+ years of experience in the industry combined with an unparalleled passion for denim. Mohsin started off with oki-ni designing for Levi's Japan, Evisu and Aquascutum before moving on to consult with brands like Edwin, DKNY Jeans and Timberland. So, yeah, he knows his shit.
(We have a great interview with Mohsin here, by the way.)
ENDRIME came on my radar way back in 2012 with Mohsin's totally out-there take on what a pair of blue jeans could be. The result was an ergonomic jean complete with knee darts and a fascinating use of the selvedge edge. You can check out the complete rundown here. I remember thinking at the time "cool, but I don't quite get it?" That impression stayed with me till, by luck would have it, I visited Mohsin in his London studio earlier this year.
Turning a Skeptic Into a Believer With the Perfect Fit
It was the jacket that caught my attention. Mohsin's take on the pleated style with the addition of hand warmer pockets and the single chest pocket.
When Mohsin took a size medium off the peg for me to try on, I thought there was no chance it would fit me. Body too long, shoulders too narrow and the sleeves seemed totally out of proportion. But, it fitted like a second skin.
Despite all the hipsters out there with skinny jeans and low sperm count, a fit this tight is not a good thing, especially not with raw selvedge denim. Or so I thought.
The thing is, I had total freedom of movement. Even more so than in some denim jackets I would consider a damn good fit. This seemed totally counterintuitive. The denim was raw selvedge, medium weight with no stretch. I should have had the feeling I was in a straight jacket.
Mohsin kindly took me through the details and just how he had achieved this. What followed left me in awe at the sheer level of knowledge he possesses. Not only denim and denim lore, but also classic tailoring and the understanding of the human body.
Next-Level Ergonomic Denim Tailoring
The first and perhaps most important feature of the EM40090 is the elasticated action back shoulder. This allows the jacket to move with the wearer and then spring back into shape. Combined with the clever use of darts in the upper back, the jacket fits the curvature of the body perfectly.
A more subtle and yet just as important aspect of the jacket is the sleeve detailing. They maintain a slim silhouette whilst allowing the upper arm and elbow to move. Again, Mohsin has used dart manipulation. Two traditional darts in the upper arm maintain the shape from the shoulder. From the wrist, a curved elbow dart system (fabric is removed in a large curve starting at the cuff and running up to the elbow) maintains the movement at the elbow.
Another ergonomic detail, which is also a nod to tradition, is the pleats running up the front. With such a fitted body, there is need for some movement and the pleats allow this.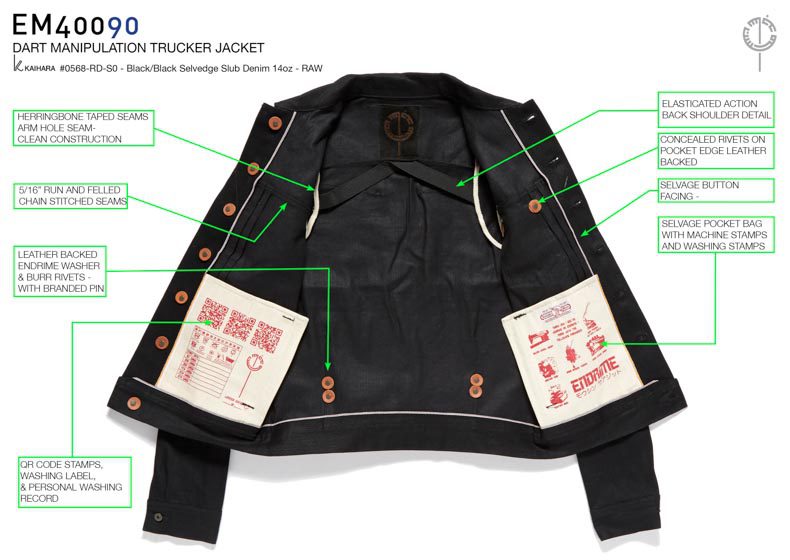 It's a Cliché, But This Jacket Proves That the Devil's In the Details
Aside from the fascinating overall construction, Mohsin overlooks no detail.
The inside of the jacket is as beautiful (arguably even more beautiful) then the outside. Books could be written on the details and history of them, but in a nutshell they are:
Selvedge button facing
Box stitch with pleated detail
Herringbone taped armhole and action back seams
Concealed rivets, leather backed from top edge of chest pocket
Run and felled 5/16" seams – clean construction
ENDRIME chest pocket
Handwarmer pockets
Leather backed ENDRIME washer and burr rivets – with branded pins
QR code stamps, washing label and personal washing record
Shoulder dart detail (felled seam goes into a dart)
Selvedge pocket bags
ENDRIME Is the Master of Marrying Innovation and Tradition
This jacket is more than another cool denim jacket for my collection. It is an education and as such has become one of my firm favourites. Mohsin's openness and willingness to share his knowledge is something I am really grateful for.
Too much time is spent looking to the past when it comes to denim. Innovation is often dismissed as a flight of fancy, but without innovation things will stagnate. If you ask me, we need more of this adventurous spirit in the denim community! Especially when the innovations have legitimate and real-world practicality at their core.
So, I will keep a close eye on ENDRIME and honestly can't wait to see what this mad Londoner comes up with next! You can keep up with Mohsin over on the ENDRIME site and through his blog, Shit Denim.